Houston Home Automation Pro's

Home Automation in Houston? We do it well. Would you like the Cadillac or the Chevy? Your choice. When you think about Automating your home, what are you most interested in? Is it Energy Management, Automated Lighting Control, Audio/Video on command, Shades, Gates, Door Locks, Smart Home Security & Surveillance Systems, and entry notifications?  Did you want to warm your hot tub, before you arrive home from a night out? Adjust the A/C from your bed at night without having to get up and walk on the cold floor? No problem. Our advice is to take all of the appropriate measures and plan in advance of when your home is in construction or remodeling stages, but we can also perform retrofit design and installation services to existing homes.
Technology truly is amazing. We are now finding that folks that love Apple and Android products, also love the idea of automating their homes, but don't know where to start. We help folks simplify technology in this extremely fast moving digital age. We think that new adopters want to automate now because Smart Home's are more affordable, and because wireless technology has advanced so much that now your Ipad or Iphone or Tablet (a tool that you already use every day) serves as your home base and remote controller for everything!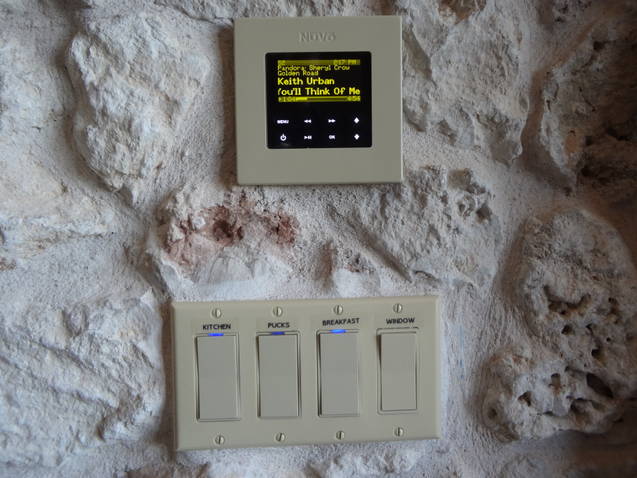 Now, lets take a look at some Home Automation System details:
Access Control Automation –
People want safety & flexibility, and we help them achieve that peace of mind by way of new technologies. What about door locks? To functionally control door locks wirelessly, you'll need specific locks, but these are useful for many families that have children. Control from an outdoor keypad, or via your smart device from the office, or anywhere that you can pick up an internet signal.
Lighting Systems Automation –

Home Automation lighting is great. When on vacation, many of our clients like our ideas regarding setting scenes for their lighting systems to make it seem like they are in-fact at home, changing the scenes on a day to day basis. That is a breeze, and automation makes it easy. Additionally, setting scenes for different portions of the day allow for saving energy, and/or setting the mood for entertainment purposes. After 9pm, why not dim the lights throughout the home and save some cash? Dimmers come as a standard with our systems. Also popular, when the garage door activates to open upon arrival, we recommend setting the system to automatically turn on additional lights in the home. It just makes sense. Options are endless.
HVAC & Thermostat Automation –
You lie down in bed for the evening, crack open a good fiction novel and realize its a little stuffy. No problem. Grab your phone off of the nightstand, swipe, and adjust the thermostat for the upstairs or downstairs units. EASY>AS>PIE. What about HVAC Home Automation for your Lake or Beach house? Sure, turn on the thermostat before you start the journey to cool down the home in advance of your summer weekend arrival.
Home Security & Surveillance Cameras –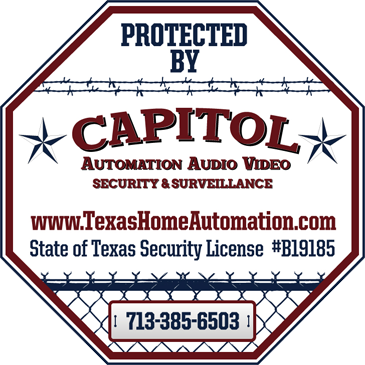 Always a big part of automating a home is the ability to secure it, and monitor the residence. We take security seriously, and so should you. Stream video to any of your devices and monitor lights to deter potential burglars. We help you secure your beautiful residence, and family, and all is integrated into our systems.
Distributed Audio Video and Home Theater Automation –
Control your entire home audio video system together or separate with your phone in hand or via an in wall panel. We have reduced our recommendation of in wall panels since the advent of wireless technology, but we do recommend having 1 or 2 in wall control centers throughout the home for convenience, and the fact that it is hard-wired.
Activate different sources of music in separate rooms (kids, adults, teens, etc.), or sync everything for a party or weekend gathering. Control the lights in your Custom Home Theater Room, or boot up your system and select your movie after dinner from the dining room 10 minutes before you sit down in your comfy automatically reclining theater chair. When you walk in, just press play.
Other Options –

Office – Technology can make your office much more attractive, adaptable to client needs and meetings, and, of course we will help optimize communication. Automate your office boardroom, conference room, and entire office settings today.
Outdoor – Pool/Patio Lights on/off, heat the pool/spa, etc. Sprinkler System Controls, and more.
Give us a call for a no-hassle Houston Home Automation discussion, and free consultation to evaluate your space. 281-606-9247